Christmas 2005
We celebrated Christmas this year at our home in KL. Hubby invited a few friends to join us, so we spent Saturday afternoon preparing the food. Hubby ordered a roast turkey and a huge piece of ham and made some potato salad. I cooked some spaghetti and made 2 different types of pasta, one sweet and one savoury. We laid the tables, brought out the plates and wine glasses, played our Christmas album and waited for our guests to arrive, who despite the rain, turned up in good spirits. Some of our guests brought us crispy pork and duck and a haagen daz ice-cream. And hubby's brother made us dessert. So, we had a really wonderful feast.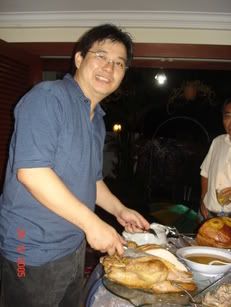 I'll start my diet tomorrow
The rain did not linger for long, so that was good as it was getting to be rather humid. Most of us moved to the porch to chat and to enjoy the evening breeze. Zerlynde stayed up way past her bedtime but we allowed her this indulgence since it was Christmas eve. There were some older kids around one of whom brought along a remote-controlled car which so fascinated Zerlynde that she spent half an hour chasing after it.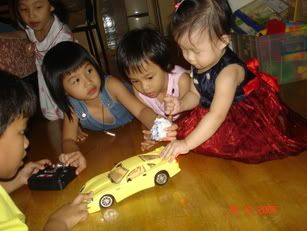 As the clock struck twelve, we hugged and wished each other Merry Christmas. The fireworks were missing but there was an abundance of camaraderie to make up for it.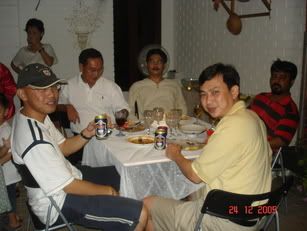 Hubby's closest friends from secondary school, Kok Wai, Andrew and Raymond

My very own Santarina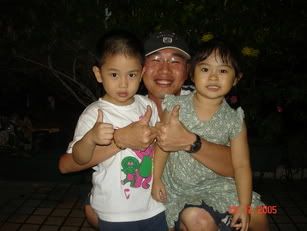 Uncle Andrew hugging Dylan and Patrina